Objawy ciąży
W momencie, gdy komórka jajowa zostaje zapłodniona i powstaje nowe życie w organizmie kobiety zachodzi wiele zmian. Zapewniają one płodowi prawidłowe warunki do rozwoju. Zmiany zachodzą pod wpływem działania hormonów, które są wytwarzane przede wszystkim przez łożysko i jajniki. To właśnie hormony powodują, że pojawiają się pierwsze objawy ciąży.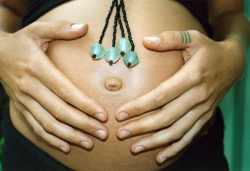 Niektóre objawy ciąży wskazują możliwość ciąży, inne jej większe prawdopodobieństwo. Objawy ciąży nie dają jednak 100% pewności na jej istnienie. Jedynym i pierwszym pewnym dowodem jest bicie serca dziecka.
Możliwe objawy ciąży:
1. Nudności występujące z rana – mogą wstępować już dwa tygodnie po zapłodnieniu. Nie należy jednak zapominać, że możemy mieć do czynienia ze zwykłym zatruciem pokarmowym lub infekcją.
2. Częste siusianie. Może ono jednak wynikać również z zakażenia dróg moczowych lub stosowania leków moczopędnych. Często oddaje się mocz również w przypadku cukrzycy.
3. Duży apetyt. Może on być również spowodowany nieodpowiednią dietą lub innymi schorzeniami.
4. Zaparcia.
Wyróżnia się również prawdopodobne objawy ciąży:
1. Brak miesiączki. Może on być też spowodowany odchudzaniem, otyłością lub problemami hormonalnymi lub nawet strachem przed ciążą.
2. Rozstępy na brzuchu oraz na piesiach. Mogą one wynikać również z problemów z równowagą hormonalną.
3. Bolesne skurcze. Następują nie tylko we wczesnej ciąży, ale również mogą być skurczami jelit.
Wyróżnia się też 100% objawy ciąży:
1. Możliwość zobaczenia embrionu na USG, jest to możliwe, gdy ciąża jest w 2 miesiącu zaawansowania.
2. Możliwość zbadania bicia serca płodu, co jest możliwe od 10 tygodnia ciąży.
3. Wyczuwanie ruchów płodu poprzez powłoki brzucha. Występują już po 16 tygodniach ciąży.
Na podstawie: www.mediweb.pl